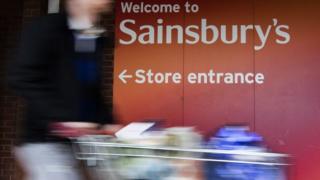 The failed bid to merge with rival Asda cost Sainsbury's £46m, the supermarket giant has said.
In April, a proposed merger between Sainsbury's and Asda was blocked by the UK's competition watchdog over fears it would raise prices for consumers.
Sainsbury's said that like-for-like sales growth continued to slow in the fourth quarter, especially over the Christmas period.
It added it would accelerate investment in its store estate and technology.
Fourth-quarter sales fell 0.9%, having fallen 1.1% over Christmas.
In the year ending 9 March, profit before tax fell to £239m, from £409m the previous year. Costs for the year included the failed Asda bid, restructuring costs of £81m and defined benefit pension expenses of £118m.
Chief executive Mike Coupe told the BBC's Today programme: "Well, we draw a line under the past… The authorities blocked the deal, but we think our business is adapting to the changing world of retail, and we will will carry on investing in our business."
Mr Coupe said Sainsbury's would invest in 400 supermarkets over the next year and would continue to invest in online sales.
He added that he would be "sticking to the company" when questioned about whether he had been asked to step down after the failed merger.